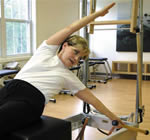 Janet: "I have practiced Pilates at another Romanas' Pilates studio for the past 8 years. I thought I could not be in better condition until I discovered Catherine at CENTRE PILATES. Catherine immediately zeroed in on misalignments in my cervical spine that no one else noticed and/or corrected. In a few customized sessions I became perfectly aligned and centered. Catherine taught me to connect deeper within my power house. I leave each session invigorated and inebriated. I am 68 years old and I feel more youthful then most 40 years old! My OBGYN confirms it is more then skin deep. When she asks me my secret I say: "Pilates" now I say "CENTRE PILATES."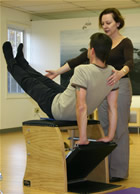 Lt Firefighter Keith is in his late 30's. "I sustained a traumatic hand injury while working on a fire. I began to work with Catherine to resolve muscular weaknesses & to prevent future injury. One day, while back at work on a steep pitched roof I came to appreciate what Catherine had been teaching me. I had a greater sense of balance then ever during 16 years of service. I felt stronger, more comfortable, more stable and safer performing my duties. I feel more in tune with my body and have also noticed a greater fluidity of movement. I love working with Catherine because she is always watching me closely and intently, addressing my specific needs, and making the necessary corrections to ensure that I get the maximum benefit from each session. She has a way of challenging me without overdoing it. I leave each session feeling energized and strong. I never realized that I could gain so much by practicing only one discipline."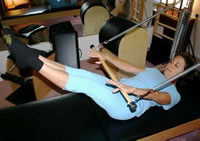 "I have had Scoliosis since my childhood. Working with Catherine has helped me to grow, literally, a full inch! I always look forward to my sessions. Even after 4 years, I still find myself challenged and progressing. It's thrilling. Catherine is simply the best in her field. Working with her is a privilege."
Jill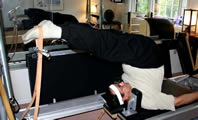 Wim is a civil engineer in his late 60's. "Ms Isaacson is a Master at her craft. She is an inspiration. I lost 30 lbs in 3 months and have kept them off for years. Painful bone spurs vanished. When working in the field, my lungpower increased so much that walking up a mile and a half long steep hill, I left 20 year-old associates huffing and puffing out of breath behind me. I was astonished. I love it! I could barely bend and reach my waist; now I touch my toes. I was never that flexible at 20! Ms
Isaacson owns the serum of youth and she shares it!"

Dana, the owner of a loan & brokerage company and in her late 40's, is the mother of 4 grown children. She missed her pre-pregnancy waistline and was affected by her uneven back due to scoliosis.
Working with Catherine has been a life changing experience. I lost 2 dress sizes -from 8 to 6! My waistline reappeared firmer then ever. The migraines I could not control now dissipate with no medication. My tired aching back is gone and with it my visits to the chiropractor. Under the knowledgeable care of Catherine, for the first time in my life, I can feel my entire back making full contact with the mat. Catherine accomplishes miracles."
Raphael suffered a heart attack in his 70's.
"She is a Saint! She taught me exercises that I can perform every day to keep flexible and strong. She always has a solution to every problem that nags me. I thank her every day for improving my life."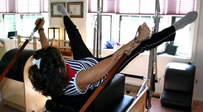 In her 50's, high power executive Susan travels on the road extensively. Chronic back pain and excruciating neck pain was her lot.
"At CENTRE PILATES, I immediately chill out. I came to depend on it to energize and refresh myself. My back and neck pain fade away. This is the place to be."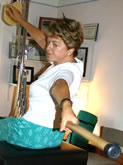 Karin is a semi retired business owner in her mid sixties. She was in a coma for a month, after a car accident in 1989. Her posture and equilibrium needed work.
"Catherine noted this irregularity and designed a Pilates program especially for me. Catherine guides me with verbal cues and "hands on" and I really appreciate that. She is very positive in her comments and makes every effort to help me. I trust her implicitly with my body. I see results."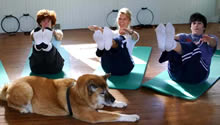 Mindy is a mom, in her early 30's, and it seem s the weight of the world is on her shoulders. Her posture suffers form it. She barely has 55 minutes a day for herself. Lucky for her it is how long our Pilates sessions last.
"My sister is a Pilates teacher, but I come to CENTRE PILATES® because certified teachers are not all created alike. Catherine has always so much to teach me. I am addicted."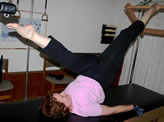 Prior to devoting herself to raising a child, Terry had a high pressure job. She let gravity and friction take over, resulting in poor posture. Her right hip, knees and feet were misaligned. Her coordination was poor.
"I am a take charge individual. It was humbling to realize that my body did not know that. Since I started Pilates with Catherine, the benefits became cumulative and beyond expectation. I have experienced increased flexibility and no longer wake up with the aches and pains of an aging body."

Lisa is an educator. She leads a stressful life. All the tension was kept in her shoulders Her upper torso was weak. She now thrives.
"Performing Pilates with Catherine made me realize that it is never too late to change your body and mind. I finally have a great appreciation of my body and its capabilities. At 42, I feel energized, confident and toned."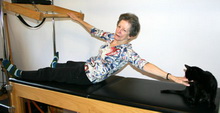 SUE is a grandmother of twelve grandchildren. "My grandchildren keep on asking me how I can keep up with them on our long walks. Catherine keeps on telling me to focus on my biological age versus my chronological age. Since I started to work with Catherine almost a decade ago I have become more youthful: My spine is more flexible. I stand straighter. I also use to lead with my chin – no more. Catherine challenges me. I perform movements I never thought I could such as "The Tree," "the Chinese Monkey," "The hanging pull-ups." I feel great and it is fun! I am enjoying trips around the world visiting my children and grandchildren from Australia, to England and in the US…and as soon as my plane lands I call Catherine to set up my Pilates appointment often right then and there. That is what keeps me going!"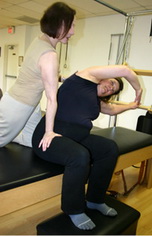 Meg is a mother and community volunteer in her late 50's, was an energetic and outspoken educator when she was diagnosed with Lupus, Fibromyalgia and Lyme disease. She came to the studio mentally and physically exhausted, overweight, plagued with neuromuscular pain and troubled with cognitive issues. A self acknowledged "former tomboy," she was now often on the verge of tears.
"Since performing Pilates with Catherine, my pain has disappeared. I have finally been able to get full night of restful sleep. My concentration is better, enabling me to complete daily tasks. I feel energized and don't feel so overwhelmed with life.
"Beyond working to improve my strength and physique, the Pilates movements engage my brain and challenge my concentration. My memory is improving; I now remember my appointments! Before working with Catherine, I would constantly show up at meetings and appointments at the wrong time or not at all.
"Pilates has so improved my stamina and balance, that this summer I was able to travel to California and rock climb with Cole, my 9 year old child!"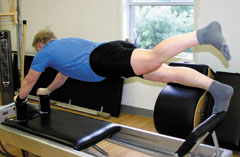 Gerry is a Software Developer in his 50s. Gerry travels over 2 hours round trip for his bi-weekly sessions to the studio.
"Since I started Pilates with Catherine, my body and my life have completely changed for the better:
"The lower back pain that I had had for decades disappeared. Catherine has improved my posture and given me better flexibility, balance and breathing. I am now sleeping the whole night through for the first time that I can remember.
"I do trail running and my lung capacity and endurance have increased markedly.
"My increased muscle mass and tone has lead to a more symmetrical body. My legs, bowed since childhood, have straightened.
"Perhaps most importantly for me are the improvements to my sense of well being."